Welcome to the Dwarven Forge Collector Catalog Wiki
Edit
The definitive catalog of Dwarven Forge terrain created and maintained by collectors and fans. If you find incomplete, incorrect, or missing information please feel free to edit and/or add content. Thanks for dropping by!
Terrain Categories:
Edit
Other Cool Stuff
Edit
About Dwarven Forge
Edit
Dwarven Forge was founded in 1996 by artist Stefan Pokorny, a medieval fantasy devotee and an avid Dungeons and Dragons enthusiast. As a classically trained, professional painter and sculptor, Stefan knew that "real" dungeon terrain equal to his incredible 25mm tall hero figures would bring tabletop gaming to a whole new level. After many months of painstaking design, sculpting and painting, he introduced the world's finest pre-painted miniature terrain.
Response from gamers was overwhelming! They loved the fact the pieces are fully hand-painted and ready to use out of the box. They marveled at how they could rearrange the pieces to depict an infinite number of settings.
Since 1996 thousands of loyal collectors have purchased Dwarven Forge sets for their games, dioramas, and for the sheer beauty of the product itself. These sets are built to last, and many collectors are now sharing them with their children and grandchildren.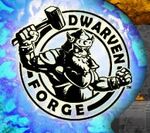 Latest activity
Edit
Community content is available under
CC-BY-SA
unless otherwise noted.