Dwarven Forge resin "Master Maze" terrain sets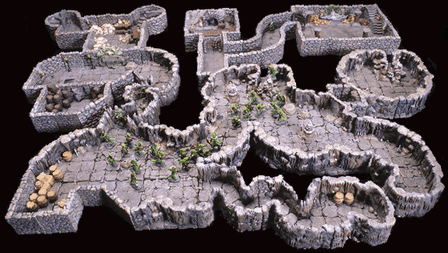 MasterMaze is an interlocking, interchangeable dungeon system meticulously sculpted, cast in durable resin, and then hand-painted by skilled artisans. No other company offers such magnificent accessories for 25-28mm miniature gaming ready to use right out of the box.
Dwarven Forge's extensive product line includes amazingly detailed stone and cavernous rooms and passages, swinging doors, portcullis, secret doors, the demon gateway, the mermaid fountain, the ogre's den, medieval furniture, accessories like barrels, crates and torches, pillars, straight and spiral stairs, and, the first of its miniatures series, lizardmen! Plus much, much more. Everything comes fully hand-painted so you can spend more time gaming
Themes Produced in Resin
Edit
What is Resin?
Edit
The Dwarven Forge Resin sets are made of rock hard polystone.
Polystone is a manufacturing medium used for cast sculptures. It is a compound made up largely of polyurethane resin mixed with powdered stone additives which gives it a significant weight, a porcelain-like feel, and an incredible ability to capture the most minute detail.
Polystone is durable and highly effective at maintaining a sharp paint finish. Unlike porcelain which is fired in an oven, Polystone is a cold-cast material in which no heat is used in the manufacturing process, resulting in much greater variations of paint finish. 
While rock-hard, they are fragile and can break or chip.
Community content is available under
CC-BY-SA
unless otherwise noted.